Vermont Highland Cattle Company Donates Meat to Food Shelves
Tuesday, December 4, 2012
by Robin Smith, Staff Writer, Orleans County Record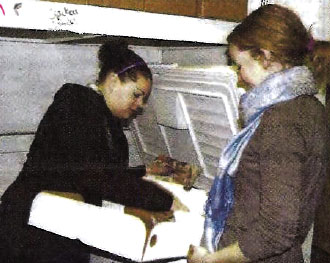 Northeast Kingdom Community Action employees Nicholle Bixby, left, and Brooke Brittell load frozen beef into a freezer at NEKCA on Monday. Fran Azur and Melanie Gefert of Newport Center, owners of the Vermont Highland Cattle Co., donated 3,000 pounds of beef to area food shelves.
NEWPORT CITY — Food shelves in Orleans and Essex counties receive many donations, but consistently, the need is for protein.
That's why the large donation of beef from Newport Center residents Fran Azur and Melanie Gefert and their Vermont Highland Cattle Co. is so welcome.
A crew representing Azur and Gefert delivered 3,000 of beef worth $18,000 to five are food shelves on Monday. This is the fifth year that Azur and Gefert have donated meat, at first turkeys and then beef from their company after that, Mason said.
more

▼