Vermont Highlands maple syrup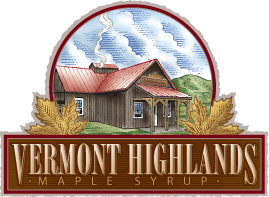 In the fall of 2009 Vermont Highland Cattle Company built a new state of the art maple products production facility on it's farm in North Troy, Vermont.
This "Sugar house" is fed from 6,000 plus maple trees "taps" on the property.
In the spring of 2010 the first Vermont Highlands Maple Syrup was successfully produced and all was sold within three months of production.
Also in 2010 another 1,000 plus taps were installed for more production.
Plans are for sugar maples on Vermont Highland Cattle Company's five other Vermont farms to be "tapped" with the sap being trucked to the brand new North Troy "Sugar House".